Post by Kenna Kearny on Dec 15, 2016 20:28:21 GMT -5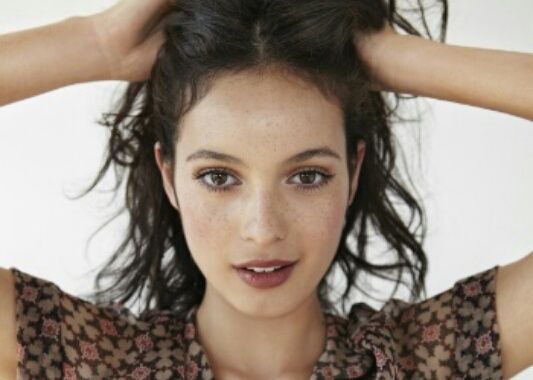 BASIC INFORMATION
NAME:
Kenna Kearny
NICKNAME:
n/a
AGE:
Fourteen
BIRTHDAY:
June 23, 1978
PLACE OF BIRTH:
Silverbridge, North Ireland
BLOOD STATUS:
Muggleborn
WAND:
Old:
Hawthorne and Phoenix Feather, 12 1/2 inches, rigid
New:
Fir and Dragon Heartstring, 12 1/4 inches, snapped in three places with numerous chips, held together with spell-o-tape (barely)
SEXUALITY:
Eh, who knows
AFFILIATION:
the Uprising
APPEARANCE
FACE CLAIM:
Olivia Lefebre
APPEARANCE:
Kenna is neither particularly tall nor especially short at about five feet and six inches tall, and while she always hopes she'll continue to grow, it seems unlikely that she'll get much taller. Her hair is incredibly thick, wavy, and nearly black in color. While as a small child she always kept it cut in a short bob, one she got older Kenna decided that she likes her hair longer. Currently it hangs down to the middle of her back. Kenna has an oval shaped face, with wide brown eyes. Her mouth is on the small side, with her top lip being much thinner than the bottom the girl has an olive complexion, with freckles all over her body, though especially on her face. She even has freckles on her lips. The teen is rather slim, with an athletic figure from doing various active things, though she's at the point where she is beginning to grow into a more womanly figure. Outside of school, her wardrobe consists mostly of jeans, shorts, and athletic shirts since she doesn't particularly care about "cutesy" clothes, though she does have all of two dresses for special occasions.
PERSONALITY
PERSONALITY:
: Kenna is an incredibly stubborn girl, and rather headstrong as well, refusing to be swayed if she makes up her mind or knows that she's right. Highly opinionated, the Irish girl is both quick to form them and quick to voice them, though this is not to say that she doesn't know when to keep her mouth shut. Kenna is not afraid of conflict, and is definitely not one to back down from any sort of fight or challenge. She's confident in herself and her skills, and can at times come off as a bit arrogant, though this is not very often.
Stemming from her childhood and her own cooking skill, Kenna is very much a food snob. While she'll eat nearly any food placed before her (out of politeness of course), she's actually really picky on what she considers "good food." Most of the time, she won't actually say anything negative near the maker of the food, but she's quite vocal with her feelings about food around certain people. One could easily describe her as a schemer, as Kenna almost always has a plan or plot of some sort. Throughout her short lifespan, she's learnt to be quitemanipulative, and is pretty good at getting what she wants.
One of Kenna's pet peeves is routine, and she hates it with a passion. She hates it when every is planned for her, and when nothing changes. In fact this has probably been one of her biggest struggles during her schools years. Another thing she struggles with is rules. While she sees the importance and necessity of having them, she hates having to follow them and thus doesn't a large chunk of the time. She's a rather ambitious girl, though often times her ambitions are rather broad. For instance, her current goal for her future is to be in charge of something very important. She doesn't quite know what that very important thing is yet, but she knows she'll do nearly anything to achieve that goal.
The teenager is the very definition of a grudge holder, being slow to forgive and even slower to forget, though not much actually warrants holding a grudge in her mind. She's incredibly impulsive at times, and sometimes goes a bit to far with things, though of course being as stubborn as she is she'd never admit it. Unfortunately, one of her worse traits is her temper, which is rather volatile, especially since being kidnapped. Because of this, she's prone to the occasional bad mood or fit of rage, and in such a circumstance her judgment becomes impaired. The only ones able to counter her foul moods are Aiden and her siblings, who can somehow manage to calm her down.
BOGGART:
Kenna's worst fear it that
if
when she finds her family again, they won't remember her. Her boggart would take the shape of a family photo without her in it.
DEMENTOR:
Kenna's worst memory is being kidnapped by the Death Eaters right before being brought to the facility. Before the incident she'd been on vacation with her family in the bahamas, but she'd made the mistake of going swimming on her own.
PATRONUS:
Kenna's best memory is eating her mother's homemade waffles waffles for dinner and making silly videos with her siblings. Currently, Kenna cannot produce a patronus, however if she could, it would take the form of a hawk.
ERISED:
Kenna's deepest desire is to finally escape the Facility and eat some really, really good food again. This is because she absolutely abhors being stuck in the Facility. Also because she very much misses her mother's cooking.
AMORMENTIA:
Fire, peppermint, and maple syrup
VERITASERUM:
Kenna's deepest secret is that she is part of the Uprising, and is assisting in the plans to break out of the Facility.
SCHOOL INFORMATION
SCHOOL:
Hogwarts
The Facility
HOUSE:
Slytherin
Felis
YEAR:
Fourth
NEWTS:
n/a
FAMILY AND HISTORY
MOTHER:
Lillias Kearny (nee: Mingus), 40, muggle, Lawyer
FATHER:
Edan Kearny, 40, muggle, Law Professor
SIBLINGS:
Cole Kearny, 13, muggle | Karlie Kearny, 11, Beauxbatons student | Connor Kearny, 6, muggle | Cameron Kearny, 4, muggle
OTHER:
n/a
HISTORY:
Lillias and Edan first met in law school after they'd been put together for a group project. Though the two spent a great deal of time arguing and teasing each other, they actually liked each other a lot and quickly began dating quite seriously. Not long after, the pair met Amanda Enders and Norton Sanderson. Though they were studying completely different programs than Lillias and Edan, the four of them became fast friends.
Once they were all graduated from university, the four of them moved into a rather nice apartment in Northern Ireland. Not long after this event, the two couples got married, not far apart, and soon after that, both Amanda and Lillias discovered that they were pregnant and both due around the same time. Of course with this news, the friends knew they could no longer be squished into the same apartment, but this was not to be a parting of ways. Instead, the two families bought a pair of homes directly next to each other in a town called Silverbridge. Not much later, Kenna Kearny was born.
Kenna was a pest of a child, prone to frequent temper tantrums and getting into everything, but she was also quite sweet when she wanted to be. She became quick friends with the Sanderson's little boy, Aiden, who was only a few months older than her, and as she grew up, Aiden would prove to be her best friend, even into her teen years. As the girl grew older, her family grew, and she eventually had four siblings (five if William, Aiden's brother, was counted, which he always was), all of which she absolutely adored.
At the age of seven, she began to display little signs of involuntary magic, though she didn't pay enough attention to really put two and two together. Toys that she'd lost would appear at her feet, pink shirts would change to become blue or green, and vegetables would mysteriously disappear off of her plate. It wasn't until her eleventh birthday that these strange phenomena would be explained.
A man named Ronald Grimendoris paid a visit to the Kearny home on June 23 of 1987. He informed the family that Kenna was a witch, and how there was a school that would teach her how to control her magic. Edan and Lillias were adamant that Kenna not get 'mixed up' in the whole magic thing, but when they discovered that Mr. Grimendoris had visited the Sandersons only a few months earlier, and that Aiden was a wizard as well, they reluctantly sent their oldest child off to a magical boarding school.
Kenna went into it rather excited, though perhaps she would have been less so, had Aiden not been with her. Both of them were sorted into Slytherin, which was apparently the house full of pureblood students. While she felt a bit like an outcast among her housemates, considering her muggle heritage, Kenna didn't particularly mind, and she made a place for herself in the school. All to soon her first year was over, and she almost didn't want to go home, though she missed her family dearly.
Though readjusting to muggle life was difficult, Kenna managed to enjoy her summer, and the time passed quickly enough. Before she knew it, the Irish girl was on her way back to Hogwarts. Her second year was more or less the same as her first, and she still enjoyed life as a witch. On the other hand, second year seemed to pass a lot quicker than her first, and she was spending summer with her family once more.
Going back for her third year was not quite as simple as it had been previously, as rumours of a dark wizard named Voldemort began to surface, and of course her parents were worried. Not willing to give up her place in the magic world, Kenna used all her powers of persuasion to convince her parents to allow her to return. School security was extra right, in an effort to protect both students and staff, and while Kenna saw why it was necessary, she didn't particularly like it very much.
During winter break of her third year, Kenna eagerly went home to her family. Expecting a quiet Christmas like usual, Kenna was incredibly surprised when her parents told her that they would be spending the holiday on a cruise to the Bahamas. They'd already packed her bags and before she had even been home for a full day, they'd boarded a plane to New York. The vacation was fantastic, and the ports gorgeous and exciting. It was probably the best vacation Kenna had ever been on, and she almost didn't want to go home. Little did she know that she would not be returning to her home, instead she was going somewhere much, much worse.
The Kearnys had decided to spend their time at the final port on a beach, and Kenna had wanted to enjoy the sea for a long as possible. Of course, thanks to her many younger siblings, her parents had tired long before she and Cole were through, though they had convinced their parents to let them keep playing for a bit longer. Dean and Lillias hadn't thought anything bad would happen, after all Kenna was dressed as a muggle and they were so far away from home, but before she and her brother had even been alone for ten minutes, a couple of men in wizarding attire appeared, seemingly out of nowhere. Luckily, Kenna had wandered away from her brother so he wasn't caught in the fray, but before she could do anything, the men had immobilized her with their magic. They were gone before Cole could even notice that his sister was missing.
Though the men had never told her who they were, Kenna knew in her heart that they were Death Eaters and that she hated them. She hated that they'd stolen her away from her family and she hated that she couldn't even get a good punch in, and she hated that they'd stolen her wand. It hadn't taken long for them to get to their destination: a building called the Facility, which would be her prison for an indefinite amount of time. Her one comfort was the fact that she was fairly confident that at least Aiden was safe, since he was continents away, and probably at Hogwarts. It came as a great shock to her, a few hours later, when she realized that Aiden had been brought to the fortress a few days earlier.
Kenna was
not
happy with her imprisonment and made it her mission to let her captors know it. For her first couple of days, the thirteen year old did everything she could think of to cause trouble, but she'd soon realized that it wasn't only her who got punished, but everyone in her house as well and stopped openly rebelling as much. Months passed and the girl endured, living life one day at a time. The days passed like sludge, and Kenna looked for something,
anything
, to help fill her days with something other than the routine. Thus when rumors started of an upright, Kenna was one of the first to join in on it, ready and willing to do anything necessary to help with the cause in her upcoming fourth year.
OTHER INFORMATION
ANYTHING ELSE:
Nothing I can think of!
THE ROLEPLAY
Kenna Kearny was in one of her moods, and it was a particularly nasty one at that. She'd been storming around doing her chores, though she really didn't want to. What she did want to do was escape. Or fight, or do
something
, something other than clean and study that is. Of course she was doing something, she was part of the Uprising after all, but when she was in a mood details like that weren't to be focused on. Had she not been so good at controlling her impulses, Kenna probably would have caused a great deal of trouble right then and there, but she didn't.
She knew that the moment she stepped out if line, the whole house would be punished for it. She'd discovered this early on in her Facility days. Kenna hadn't even been at the facility for a day before being put in house Felis. For the first couple of months of her capture, Kenna had caused as much trouble as she could, and she'd enjoyed it, but she'd also made life terrible for herself and her housemates. At first she hadn't cared, after all she considered her house to be the strong one, but then she'd become away of the pain she had caused. That was the trouble with the Facility: you didn't just hold your own fate in your hands, but your entire house's as well. So she'd stopped rebelling, openly at least, though she;d never truly stopped. Now she just did it quietly, secretly, doing whatever the Uprising required her to do.
Right now the Uprising required her to be a good girl, to not get the whole house in trouble, so that was what she would do. So she took a deep breath in an attempt to calm herself down, though it wasn't quite so effective for her to be doing it for herself. She thought of her reasons for doing what she was doing. It was for herself, she wanted out, it was for Aiden, and it was for every single other kid stuck in the stupid Facility against their will. Nobody deserved being stuck there, after all it wasn't
their
fault for being born with magic. It wasn't like they got to choose. But they did get to choose to fight, and the spark of hope that she got from working with the Uprising was enough to keep her trudging through life as a prisoner.